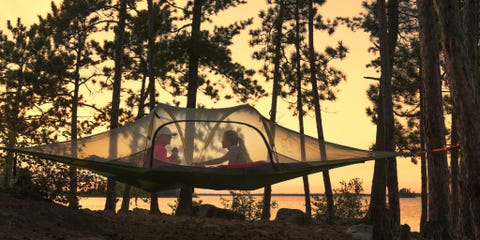 Summer is upon us, and that means it's time to get outside, feel the sun on our noggin, breathe deeply in the fresh air, and enjoy all all that Mother Nature has given our great nation. And there's nowhere better to experience the great outdoors than in America's national parks— particularly if you're the sort who doesn't mind swatting a few mosquitos when it means getting up close and personal with some of the most beautiful landscape on the planet. So why not toss the tent in the trunk, load up the ice chest, and take off to one of the following campgrounds? From mild to wild, legendary to nearly unknown, we've picked the best places to camp in national parks—plus the best national park camping tips to have the most memorable stay ever. Pick your dream destination, grab your tent, and hit the road.
Slough Creek Campground, Yellowstone National Park, Wyoming
Thanks to its geysers and grizzlies, the 3,500-square-mile Yellowstone, our first national park, is maybe also the most iconic. Slough Creek, which boasts great fly-fishing for cutthroat trout, is nicely secluded, giving campers on its 23 primitive sites a good shot at seeing not only grizzlies, but equally elusive wolves as well.
For more information visit nps.gov/yell.
Namakanipaio Campground, Hawai'i Volcanoes National Park, Hawai'i
Home to legendary volcanoes Mauna Loa, the most massive mountain on the planet, and Kīlauea, which has been erupting since 1983, this park is tough to beat for sheer drama. Namakanipaio Campground, tucked 4,000 feet up in a fragrant eucalyptus grove, offers 16 developed campsites.
For more information visit nps.gov/havo.

Tuweep, Grand Canyon National Park, Arizona
Like Slough Creek in Yellowstone, Tuweep, located on the Grand Canyon's North Rim, gives campers a chance to get far from the big crowds that overrun the most popular national parks. Services at the nine campsites are "non-existent" according to the park's website, but there's that view: 3,000 feet straight down to the Colorado River.

For more information visit nps.gov/grca.
Anacapa Island, Channel Islands National Park, California
Located off the SoCal coast, the Channel Islands have been dubbed "The Galapagos of North America" for their 145 plant and animal species found nowhere else. Catch a boat in Ventura or Oxnard, make camp in one of Anacapa's seven primitive sites and snorkel, dive, kayak or hike - all while keeping an eye out for everything from blue whales to the adorable island fox.
For more information visit nps.gov/chis.
Piñon Flats, Great Sand Dunes National Park, Colorado
Not only does this park serve up otherworldly 600- and 700-foot-high sand dunes, the tallest in North America, it does so alongside breathtaking views of the Sangre de Cristo Mountains. Take a hike to the dunes from Piñon Flats, which has 88 developed sites, and go sandboarding and sand sledding, or splash in Medano Creek, which flows in the spring.
For more information visit nps.gov/grsa.
Big Meadows Campground, Shenandoah National Park, Virginia
Ideal for families who don't want to venture into a harsher wilderness, Shenandoah unspools gently over 300 square miles of the rolling, fertile Blue Ridge Mountains. With 200 developed campsites, Big Meadows is nicely situated near three picturesque waterfalls, the Appalachian Trail and Skyline Drive, one of the country's loveliest roads.
For more information visit nps.gov/shen.
Houseboat, Voyageurs National Park, Minnesota
A paradise for anglers of everything from walleye to pike, Voyageurs National Park encompasses 218,054 acres of the Northern Boreal Forest, 84,000 of which range over lake. The 200 developed campsites here can only be accessed by water, but even if you're a landlubber houseboats can be rented from companies operating outside the park.
For more information visit nps.gov/voya.
Gulpha Gorge Campground, Hot Springs National Park, Arkansas
Hands down our most unique national park, Hot Springs not only encompasses much of the historic town where Al Capone and Babe Ruth vacationed, but also 47 natural springs that gave rise to a row of lovely bathhouses. Stay in Gulpha Gorge, which offers 44 developed sites, many along bucolic Gulpha Creek, and stroll downtown to spend an afternoon soaking in the thermal waters.
For more information visit nps.gov/hosp.
Lodgepole Campground, Sequoia National Park, California
There is little more awe-inspiring than standing amongst the most massive trees on the planet, and Sequoia National Park is home to the largest unlogged grove of them, the aptly named Giant Forest. The developed, 214-site Lodgepole, perched prettily next to the Kaweah River, is the closest campground to the grove, which also contains General Sherman, the world's biggest tree.
For more information visit nps.gov/seki.
Cinnamon Bay Campground, Virgin Islands National Park, St. John
White sand beaches, waters of the clearest blue-green and seriously scenic hiking along everything from sugar plantation ruins to coastal cliffs...this 7,000-acre park really is set in paradise. Cinnamon Bay makes a stay easy by renting not just bare sites, but also furnished platform tents and water sports gear.
For more information visit nps.gov/viis.
Seawall, Acadia National Park, Maine
Encompassing both rugged seacoast and soaring mountaintop, Acadia National Park includes chances to bike, birdwatch, climb, kayak and everything in between. The developed, 214-site Seawall, located on Mount Desert Island under sweet-smelling pine and balsam trees, is a short stroll from the ocean.
For more information visit nps.gov/acad.
Sage Creek Campground, Badlands National Park, South Dakota
The blasted, barren moonscape of Badlands provides some of the country's most forbidding—and stunning—vistas. Tuck in on the prairie at Sage Creek, a remote, 15-site primitive campground bison roam through, and watch the sunset light up the distant buttes.
For more information visit nps.gov/badl.
Chisos Basin Campground, Big Bend National Park, Texas
One of the lesser-known national parks, Big Bend features a magnificent assortment of flora and fauna and desert topography ranging from mysterious limestone canyons to desolate, craggy mountaintops. With 60 developed sites, Chisos Basin Campground benefits from its 5,400-foot elevation, which keeps it cooler than other sites, and easy access to popular hiking trails.
For more information visit nps.gov/bibe.
Lost Creek Campground, Crater Lake National Park, Oregon
Formed 7,700 years ago when a volcano collapsed following an eruption, Crater Lake is six miles wide, almost 2,000 feet deep and just maybe the most pristine lake on earth. Lost Creek, which features 16 developed tent-only sites, makes a good base from which to explore not only the water, but the nearby Pacific Crest Trail.
For more information visit nps.gov/crla.
Wonder Lake Campground, Denali National Park, Alaska
Perhaps the country's most pristine wilderness, this six-million-acre park, bisected by just one road, is where moose, wolves, grizzly bears, caribou and more romp. The closest campsite to Denali itself - at 20,310-feet the tallest mountain in North America - is Wonder Lake, which provides 28 limited development, tent-only spaces.
For more information visit nps.gov/dena.
Garden Key, Dry Tortugas National Park, Florida
For a true getaway, hop aboard the Key West ferry and head 70 miles west to Dry Tortugas National Park. Comprised of vibrant blue waters and coral reefs rich in marine life, with a few small, sandy islands here and there, the park offers killer snorkeling and eight primitive campsites located in the shadow of an abandoned 19th-century fort.

For more information visit nps.gov/drto.
Cades Cove Campground, Great Smoky Mountains National Park, Tennessee
Last year 11 million visitors poured into the beautiful, blue-tinged Great Smoky Mountains, anxious to spot black bear, coyote and other critters. With 159 developed sites, family-friendly Cades Cove Campground is in the middle of the action, offering opportunities for hiking, biking and fishing, with horseback, hay and carriage rides close by.

For more information visit nps.gov/grsm.
Colonial Creek South Campground, North Cascades National Park, Washington
Olympic National Park gets most of the visitors, but North Cascades is just as show-stopping, with old-growth forests, pearly blue lakes and some 300 glaciers. Colonial Creek's south campground totals 142 developed sites, with mountain views, stellar kayaking on Diablo Lake and access to several hiking trails winding along river and through timberland.

For more information visit nps.gov/noca.
Moraine Park Campground, Rocky Mountain National Park, Colorado
Beloved for a reason, Rocky Mountain National Park's 415 square miles include 300 miles of hiking trails, peaks soaring over 14,000 feet, 156 lakes and animals from moose to mountain lions. Moraine Park, which manages a backcountry vibe despite 247 developed sites, is ringed by scenic mountains, ideal for wildlife viewing and next door to an outfit offering guided horseback rides.
For more information visit nps.gov/romo.
Fruita, Capitol Reef National Park, Utah
There are more popular parks in the red rock deserts of Southern Utah, but Capitol Reef features its own equally gorgeous cliffs and canyons, as well as a campground unlike any other in the country. Distinguished by a 2,700-tree fruit orchard planted by pioneers in the 1880s, Fruita's 71 developed sites are located within a true oasis.
For more information visit nps.gov/care