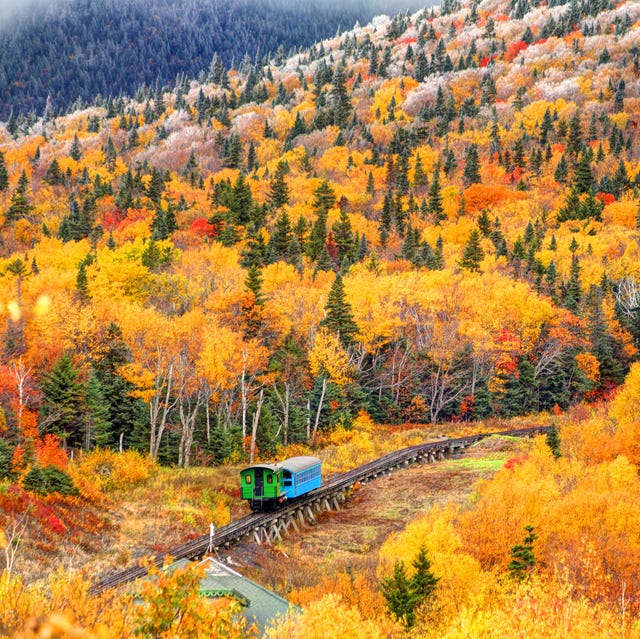 Looking for a low-key way to enjoy the vivid shades of autumn and get primo leaf-peeping views this year? Instead of taking a neighborhood stroll or a drive down an open country road, consider alternate transportation for getting even more head-on with the color-changing nature—specifically, a fall foliage train ride. It's a stress-free, family-friendly experience that allows you to focus on Mother Nature's colors, rather than fidgeting with your GPS. From coast to coast, you'll find steam engine routes that speed through scenic mountain ranges, alongside rivers, and even not far above some wild animals, all for your leisurely viewing pleasure. Some trains offer box lunches and snacks or catered fine dining, while others let you bring your own food. There's often historical commentary by guides on the vintage train routes, and some excursions stop for layovers in small towns where you can shop or grab a bite. A few things to remember: Reservations fill up fast, especially for peak leaf-scouting season. Typically, cars are assigned but seats are not, so arrive early. And some cars are open-air, so dress accordingly. Here are some of our favorite scenic train rides to view fall's glorious colors across the country.

1
Durbin & Greenbrier Valley Railroad | Elkins, WV
This railroad's Cass Scenic Bald Knob didn't earn its name for nothing—hop aboard for unbeatable views of West Virginia's third highest point, with the option to turn the voyage into an overnight adventure. Or, set your sights on the unrivaled mountain views from the New Tygart Flyer train. Long story short, you can't go wrong with either 4+ hour long ride. Make sure you book ahead—seats and nearby hotels fill up fast. starts from $66.
2
Colebrookdale Railroad | Boyertown, PA
Riders of all ages will love taking the post-Civil War locomotive through Pennsylvania's Americana Region this fall. Take advantage of the two-hour Autumn Splendor Fall Foliage route, which boasts festive seasonal foods and up-close views of the region's, well, autumn splendor. Per the railroad's website, it's basically a "hayride on the rails." Enough said. start from $175.
3
Cumbres and Toltec Scenic Railroad | Antonito, CO & Chama, NM
Take a half or full-day trip on the , a National Historic Landmark coal-fired steam engine. The 64-mile line crisscrosses the Colorado-New Mexico border, traversing elevations that range from 7,863 to 10,015 feet. Along the way, you'll see historical buildings, inch along an 800-foot deep gorge, and squeeze between rock ledges. The open gondola car is perfect for spotting deer, elk and bears along the route. You'll return to your starting point via motorcoach. start from $80.

4
Blue Ridge Scenic Railway | Blue Ridge, GA
Kick back for a peaceful 26-mile roundtrip in a vintage car along the Toccoa River through the Chattahoochee National Forest. On the you'll stop for a layover on the Georgia-Tennessee border in the neighboring towns of McCaysville, Georgia and Copperhill, Tennessee, where you can go antiquing or grab lunch. Special discounts are available for military personnel and first responders. start from $54.

5
Essex Steam Train | Essex, CT
Enjoy the unspoiled scenery in the Connecticut River Valley on a train pulled by an authentic steam engine. Or take a combination excursion that includes a ride on the and a on the Becky Thatcher. There's also a dinner train excursion and special outings featuring chocolate and wine, beer and brats, whiskey and cigars, or full-day sightseeing stops in the villages of Haddam and East Haddam. start from $19.

6
Cuyahoga Valley Scenic Railroad | Peninsula, OH
Trains began operating in the valley in 1880, transporting coal to Cleveland, Akron and Canton from the Tuscarawas River Valley. Nowadays, you can travel through the Cuyahoga Valley National Park on the 's new two-hour Fall Flyer excursion. Or book a trip featuring breakfast, lunch or dinner in the dining car. Another popular activity is to ride your bike one way along the Ohio & Erie Canal Towpath Trail, then take the train back. Special events include wine and beer tasting rides, paint and sip excursions, and kids' costumed Halloween trains. There's also ADA seating. start from $20.
7
Green Mountain Railroad | Chester, VT
There's arguably no more spectacular fall foliage than the vibrant colors on the rolling hills and mountains of rural Vermont. Enjoy a two-hour roundtrip scenic ride on the , or book a four-course fine dining experience on the dinner train. There's also a trip to , where you can lunch or stay overnight and then take the train back the next day. start from $25.

8
Mount Washington Cog Railway | Bretton Woods, NH
Climb to the 6,288-foot summit of Mount Washington on the , which has been in operation for 144 years. The views change as the elevation rises to the highest peak in the Northeast. The visitor center at the summit includes an observatory and new interactive weather museum, restrooms, and snack bar. start from $72.

9
Mount Hood Railroad | Hood River, OR
Gaze at the colorful leaves contrasted against stately evergreens and rugged mountain terrain found in the heart of the Columbia River Gorge. The 's trip includes photo stops, a harvest gift, and tastings of area harvest brews. Or book a special excursion to watch an Old West-style train robbery unfold. But don't fret; the good guys (and gals) win. start from $45.
10
Amtrak's Dome Car | Adirondack Mountains, NY
Take in some of the best autumnal views Mother Nature has to offer by hitching a ride on the Amtrak's vintage Great Dome Car. Currently traveling between Boston and Maine on , the window-covered car typically joins the Adirondack route, from Albany to Montreal, each fall in late September. start at $69.